Cutter & Buck
Retailer Maximizes Product Flexibility and Flow with SpanTrack Wheel Beds.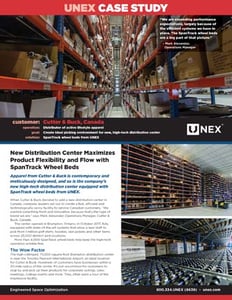 When Cutter & Buck decided to add a new distribution, company leaders set out to create a fast, efficient, and technologically savvy facility to service Canadian customers.
The center in Brampton, Ontario is fully equipped with state-of-the-art systems that allow a lean staff to pick from 1 million golf shirts, hoodies, rain jackets, and other items across 25,000 distinct pick locations.
More than 4,000 SpanTrack wheel beds help keep the high-tech operation wrinkle-free.
Download the case study to learn how Cutter & Buck combined the space-saving powers of SpanTrack and the Jungheinrich VNA truck to maximize the cubic density of their warehouse.