Williams Distributing
Goodbye, Awkward Furniture Dollies. Hello, Smooth-Flowing Gravity Conveyors from UNEX.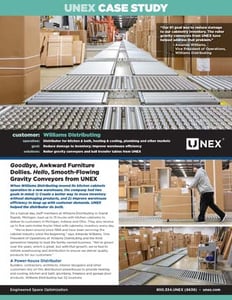 Williams is a major distributor of heating and cooling, kitchen and bath, plumbing, fireplace, and garage door products. With 32 warehouse locations and over 54 years of experience in the business, Williams has had to rethink warehousing and distribution efficiency repeatedly to ensure consistent delivery of quality products to their customers over the years.
When the company moved all of its growing kitchen cabinetry operations to a single 90,000-square-foot warehouse, the operations team had to find a more effective way to move inventory that would increase throughput and reduce product damage. Their old methods of using carts and dollies were not going to cut it!
Download the case study to learn how UNEX Gravity Conveyors revolutionized Williams Distributing's operation!