Wholesale Grocery Distributor
Leading Wholesale Distributor Increases SKU Density with Carton Flow Solution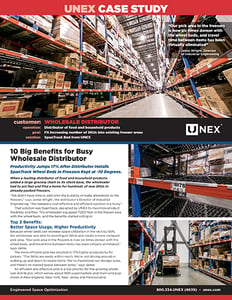 When a leading distributor of food and household products added a large grocery chain to its client base, the wholesaler had to act fast to find a home for hundreds of new SKUs in already-packed freezers.

To help the distributor fit the excess SKUs into the existing freezer area, UNEX implemented SpanTrack wheel bed to maximize product flexibility and flow, allowing the distributor to reconfigure SKUs to increase density. Travel time between items has been virtually eliminated, resulting in 17% higher productivity for order pickers.
Download the case study to learn more about how customized carton flow beds allow growing companies to maximize existing space and expand operations.