Smart & Final
Grocery Distributor Maximizes Freezer Space with a Vertical Carton Flow Solution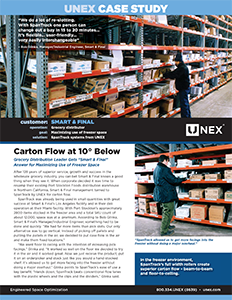 With 128 years of superior service, growth, and success in the wholesale grocery industry, Smart & Final revamped their existing Port Stockton Foods distribution warehouse in Northern California. Because SpanTrack was already being used in small quantities with great success at Smart & Final's Los Angeles and Miami facilities, SpanTrack carton flow systems became the obvious choice.
In their other facilities, SpanTrack worked well horizontally across the floor. To increase the amount of inventory facing into the freezer, they opted for a SpanTrack solution that ran vertically, from floor to ceiling. The solution allows Smart & Final to receive the product, put it on an order picker, and stock just like a hand-stocked shelf.
Download the case study to learn more about how carton flow helps growing companies like Smart & Final maximize space to hold more SKUs, reduce labor costs, and meet the demands of the grocery industry.