Maletis Beverage
Beer Distributor Goes From Maxed Out Capacity to Efficient Keg Storage System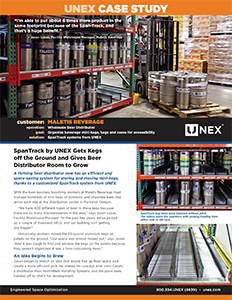 Maletis Beverage, a beer distributor in Portland, Oregon picked up thousands of SKUs over a few years and was storing kegs on the floor. Their distribution center had reached its limit, and finding space for additional kegs was challenging. Before working with UNEX, Maletis Beverage stored 65-pound aluminum kegs on pallets at ground level. Lifting kegs from pallet positions is less than ideal and this bustling distribution center was quickly running out of space.
Working with UNEX, Maletis Beverage optimized their existing space using 144 lanes of heavy-duty SpanTrack Keg Flow keg storage. Each track now holds 9 kegs deep of a specific craft beer brand, and kegs can be loaded easily from the front or back of the lane improving efficiency.
Download the case study to learn how distributors like Maletis Beverage maximized their existing space to ensure they have room to grow.