George J. Falter
Established Candy Distributor Increases Pick Lines with UNEX Flow Racks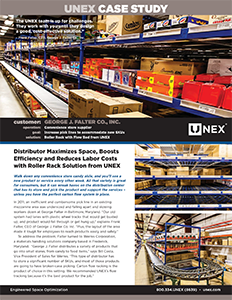 George J. Falter, a leading distributor of convenience store products, needed to increase the amount of SKUs they could process to help their customers meet consumer demand.
To help the distributor solve their challenge, Falter incorporated 32 bays of UNEX carton flow and 45 wire deck shelving units, resulting in three pick lines housing 3,000 total SKUs.
The new system helped Falter maximize space because they can now put any size box next to another, which creates more pick facings in the carton flow area and reduce walking time by storing the product in a spot where it can be picked efficiently, increasing picker productivity.
Download the case study to learn more about how carton flow helps companies like George J. Falter to maximize space, accommodate SKUs, and meet customer demands for the industry.