Diversity Vuteq
Automotive Supplier Adapts to Evolving Demand with Carton Flow Steel Rollers.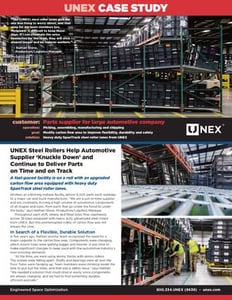 Diversity Vuteq is a leading automotive supplier with a thriving Indiana facility that delivers 6,500 parts each workday. As components changed and totes got heavier, there became an immediate need to upgrade their storage system.
Working with UNEX, Diversity Vuteq completely overhauled their plant with heavy-duty SpanTrack carton flow rollers that accommodate large loads of constantly changing components. The new solutions helped Diversity Vuteq achieve improved ergonomics, lower maintenance, and increased worker productivity.
Download the case study to learn how automotive suppliers like Diversity Vuteq can overhaul their existing space for changing demands without missing a step.